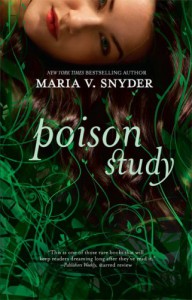 A palpable darkness. Poison Study begins in the dank, dark confines of the dungeon where Yelena awaits her execution for murdering Reyad. Though Yelena is led up out of the dungeon, and given the opportunity to become food taster to the reigning military leader Commander Ixia, the darkness of the dungeon pervades this novel. Maria V. Snyder creates a gritty realism that is at once believable and yet at times painful to read. Your heart goes out to Yelena and I found myself wanting to comfort her and help her. Though terribly betrayed by the men who took her in as an orphan Yelena holds out hope that perhaps she will one day find someone she can trust to be her friend, fantasizes for someone to love and love her in return, and yet she is faced with the harsh reality that she will likely not survive her next meal. Yelena though has a propensity for overcoming adversity and a strength of will that makes her an incredibly enjoyable to read heroine.
I hesitate to recommend this book to young adults, even though the main character herself is young, due to violence and adult situations in the form of abuse, torture, and rape. I would also warn readers who are sensitive to these topics. Forewarned of the difficult subject matter I would recommend this book to readers of fantasy, paranormal fiction, mystery, suspense, and especially to fans of paranormal fantasy including magic.
Source: This book was purchased by me for review.
**This review was originally printed on my blog: http://www.FromTheShadows.info