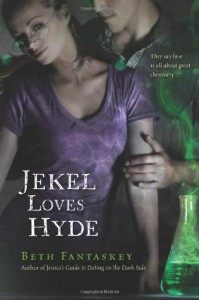 The word is about, there's something evolving
Whatever may come, the world keeps revolving
They say the next big thing is here
That the revolution's near
But to me it seems quite clear
That it's all just a little bit of history repeating
-Propellerheads
It's all just a little bit of history repeating... What if the story of The Strange Case of Dr Jekyll and Mr Hyde by Robert Louis Stevenson were true? What if the formula that Doctor Jekel created really worked and altered the course of the Jekel and Hyde families forever? This is the basis for Jekel Loves Hyde and Fantaskey, author of Jessica's Guide to Dating on the Dark Side, does a fabulous job of reeling the reader in from the very first page. Jill Jekel and Tristen Hyde's lives are about to take a bizarre turn, but they are both so filled with realistic flaws and feelings that the entire scenario feels utterly believable. Jekel Love Hyde will take you on a thrilling ride of danger and young romance. A suspenseful paranormal read that young adult paranormal romance fans will drink up like the elixir within its pages. A heady draught both bitter and sweet.
I recommend Jekel Loves Hyde to readers of young adult, paranormal romance, urban fantasy, paranormal mysteries, and especially to fans of paranormal suspense. Jekel Loves Hyde may appeal to fans of The Hollow by Jessica Verday and Nevermore by Kelly Creagh.
Sensitive reader warning: mild violence, sexual situations.
Source: This book was purchased by E.J. for review.
** This review originally posted on my blog www.FromTheShadows.info **